​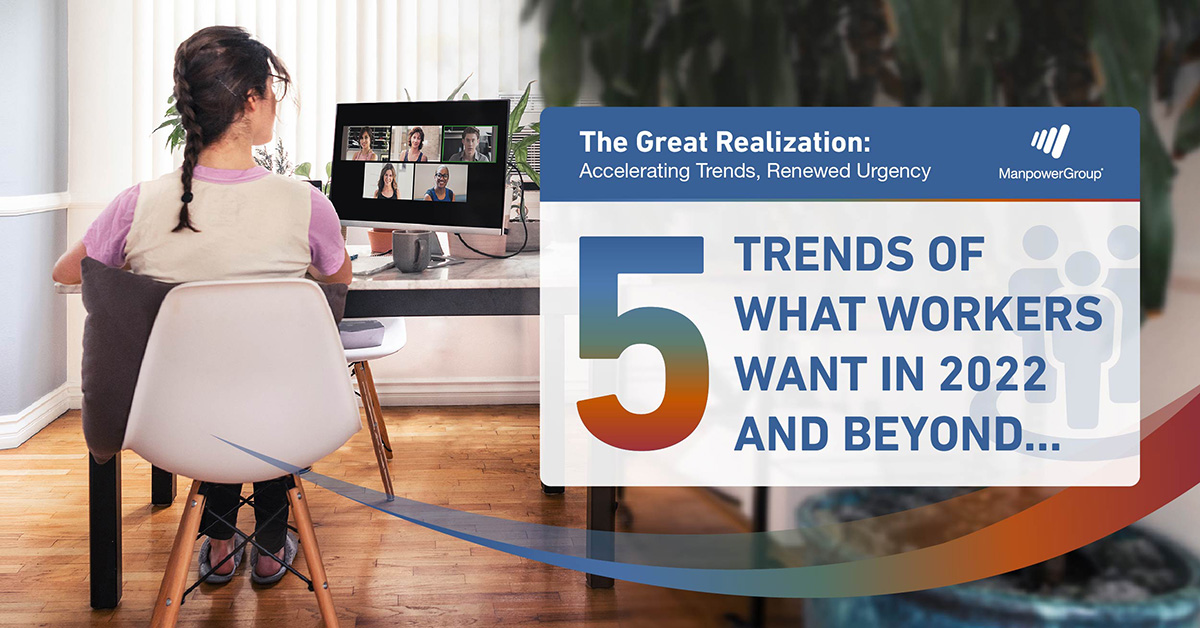 ​​The Great Realisation 2022 Report: Accelerating Trends, Renewed Urgency
​ 2022 has the potential to be one of the most transformative years in recent history. From workers taking more control of their professional lives, to the seemingly never-ending struggle of employers to recruit and retain talent, to the rapid acceleration of digital adoption, to businesses realising they need to become more sophisticated – several trends have emerged that will impact organisations of every size and the people who work for them.
It's those transformative emerging trends that are the focus of ManpowerGroup's newest report examining the 2022 labour landscape.' The Great Realisation: Accelerating Trends, Renewed Urgency' identifies the top 20 trends that will shape the world of work throughout the course of the year and beyond.
ManpowerGroup's data, insight and global relationships with clients, candidates and partners, reinforce that the structural changes and trends we have predicted for some time continue to accelerate. The impact of the pandemic combined with the acceleration of digital transformation will continue to bring profound transformation to global labour markets and workforces.
This "Great Realisation" has resulted in a 2022 labour landscape and supporting workforce trends that fall into 4 major trend categories:
​
What Workers Want

Talent Scarcity

Tech Accelerates

Companies Reset
​
​
Download Your CopyHERE