ManpowerGroup ​Hiring Trends for Q1 & Business Growth Webinar
​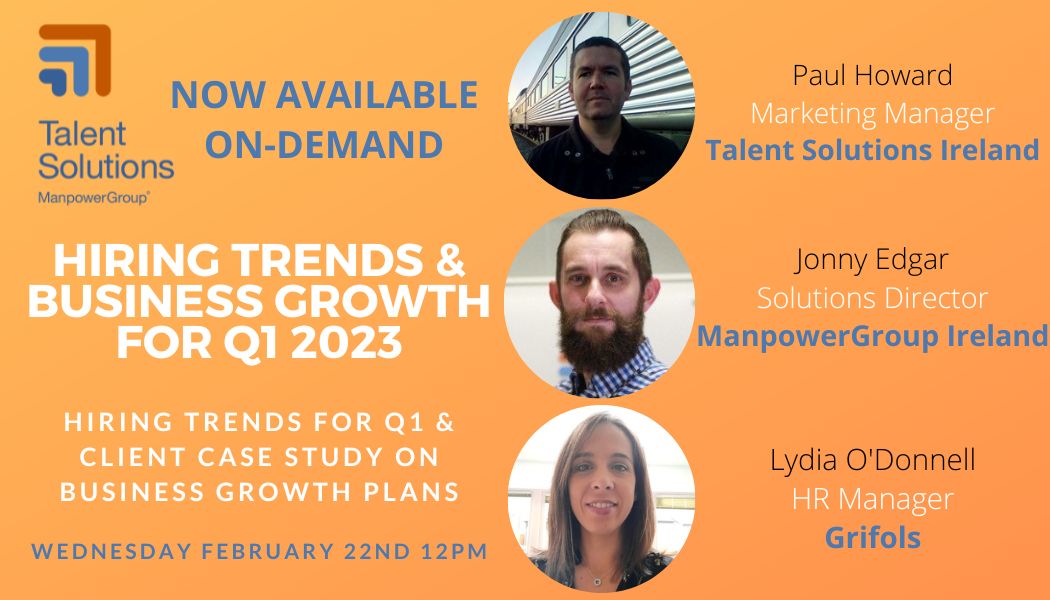 Join us for the First ManpowerGroup Ireland Webinar of 2023 where we will be discussing the findings from our latest Q1 Employment Outlook Report and its implications for upcoming recruitment campaigns. We are delighted to be joined by Grifols, a client of ManpowerGroup, who will be discussing their growth plans for 2023 and how they are implementing their recruitment strategies to attract the talent they require to match their business growth objectives.
Wednesday February 22nd at 12pm. Speakers from Talent Solutions, ManpowerGroup Ireland and Grifols. 45 minutes duration and Q&A.


Key Discussion Points for the Webinar will include:

* The latest insights from our Employment Outlook Survey for Q1 2023;
* How the findings will impact on organisations recruitment plans;
* What types of organisations will be doing the majority of hiring in Q1;
* Why companies need to adapt to compete for talent;
* What sectors are hiring and what volumes will be required to match demand;
* Where are the talent shortages in Ireland and how are organisations adapting;
* The latest Tech/IT talent HR trends in the marketplace;
* Grifols will be discussing their growth plans for 2023 in Ireland and how they intend to recruit the skilled talent they need in Ireland;
* Q&A on any aspect of the topics or any HR area attendees would like to discuss.

This is a Free Webinar and suitable for HR Professionals, Senior Management, Talent Acquisition, Business Owners, Talent & People Managers and Business Executives. Registrations is required and places are limited to 4 attendees per company. Book your place today and you are welcome to invite a colleague/friend who might like to attend.
​